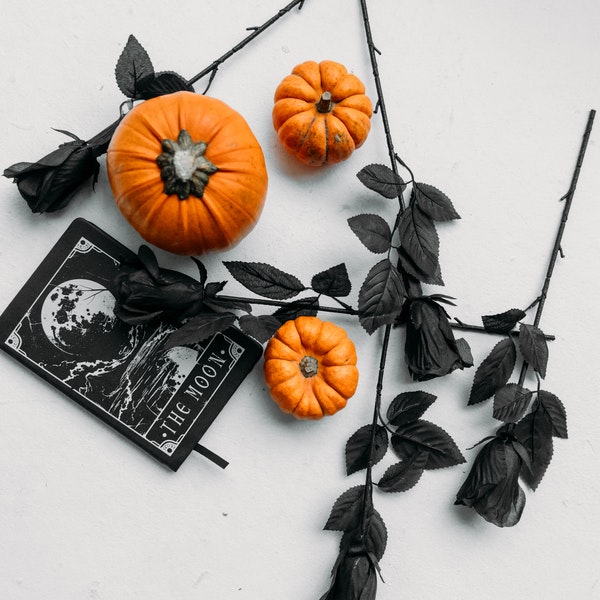 If you love updating your home decor for the season, then I'm sure you're excited for the coming fall like I am.
Fall has such gorgeous colours and textures to add to your home decor and who can resist pumpkins, gourds or a stunning farmhouse porch in autumn? There's something so comforting about the rich textures of fall, so I scoured Instagram, Pinterest and more to find the best decor ideas for the season so you don't have to! So get ready to get into the autumn decor mood by brewing a batch of warm apple cider, kicking up your feet and browsing some of the best fall home decor inspiration below:
*this post contains affiliate links*

1 . Pumpkins & Gourds Everywhere
On your fireplace ledge, as a table centerpiece or in apothecary jars, pumpkins are a gorgeous staple for your fall home decor! Not into gourds that expire after a while?
You can always invest in the acrylic or glass variety, like these stunning glass pumpkins from Wayfair or try your hand at these gorgeous DIY pumpkins with the kids. Etsy also has some fab personalized pumpkin, knit pumpkin and velvet pumpkin options to browse!
2. A Fall Fireplace Mantel
A fireplace mantel is a great spot to display a lovely harvest theme for autumn while enjoying the warmth of the fire. Pumpkins, gourds, candles, wheat – all are great mantel options!
3. Updated Fall Pillows & Linens
A great way to update a neutral couch for fall is to change up your pillows with bolder, autumn shades, plaid patterns and knit textures. 
4. A Rustic Fall Farmhouse Porch 
A fall update to your from step is such an inviting way to welcome the fall season and a great excuse to buy more lanterns, pumpkins, pillows and candles.
Add the farmhouse touch to your home with my complete guide to modern and rustic farmhouse decor.
 5. A Farmhouse Wreath For Your Door
Fall wreaths are the best type of wreaths, in my opinion, and the perfect autumn decor investment for your exterior.
6. An Autumn Inspired Console Table
I personally love styling console tables and shelves and fall is the perfect time to change up your tabletop decor. Check out this stunning white-themed fall table if you're not into the traditional fall shades of orange, brown and burgundy.
7. Chunky Knit Blankets & Throws
Get ready for the colder weather with some new knit blankets and throws for your sofas and chairs. There also a ton of DIY knit blankets tutorials on Pinterest if you're a do-it-yourself type of decorator.
8. Fall Wall Art & Tabletop Accessories
Wall art is a fun way to express yourself in your home and fall-inspired wall art can be a quick decor update for your kitchen, bedroom or family room. If you prefer a more personalized touch, there are wonderful vendors on Etsy that can customize your fall art for your home.
You can also incorporate fall decor accents onto your tabletops or create a fall-themed decor vignette in a key spot in your home to change things up.
Find out how to update your home for the Christmas holidays!
9. An Autumn Harvest Kitchen
We spend most of our time in the kitchen, so some fall-inspired accessories on your island or floating shelves will bring the spirit of the season into the heart of your home.
10. Fall Planters & Arrangements
I love the deep harvest blooms of the season. Grab a few sunflowers to throw into a vase or a big pot of marigolds and cabbage for your front porch to bring the warm colours of fall in and outside your home. A great fall centrepiece for the table would also look wonderful this season and makes a great gift when you are attending a fall party.
11. An Autumn Harvest Table Centre & Table Settings
Nothing brings the family together in thanks more than an inviting table centre. Gather your pumpkins, gourds, wheat husks and Thanksgiving platters to create a stunning centerpiece for the season. Throw in a few fall blooms like sunflowers or marigolds for some colour.
12. Rustic Storage With Bushels & Baskets
I love to have my makeup, beauty supplies, towels and bedding well organized (most of the time) and baskets and bushels are a great fall storage option to house all these items with a rustic feel.
13. Copper & Rose Gold Metallics
The warm colours of autumn are perfect when paired with rich coppers and rose gold metallic home decor accents. Copper plates, trays, candleholders, pots, cannisters – there are so many gorgeous copper decor options! For more rose gold decor ideas, you can check out my complete rose gold home decor guide here.
14. Cozy Fall Bedding
With fall comes bolder colours and cooler weather, so use this time to update your bedding and pillows to reflect the cool autumn season. Try to incorporate fall patterns like plaid or different textures like fur and knits into your bedroom.
15. Candles & Lanterns
The days get dark faster in the fall, but it's a great time to light some candles to create a relaxing mood. For some more fall fun, find a lovely scented candle to bring out the spirit of the season, like this Pumpkin Spice Latte scented candle from Voluspa.
Oversized lanterns are a great way to safely showcase your fall candle collection and update your porch, fireplace or bathroom decor at the same time.
16. Fall-Themed Apothecary Jars
I have apothecary jars spread out all over my home and I love how their contents can be changed up quickly to reflect a look, mood or season. Fill some of your apothecary jars with some fall-inspired items like pumpkins, fall-coloured candy, nuts or husks.
RELATED READING: 27 Ways To Fill Your Apothecary Jars
How will you be updating your home decor this fall?