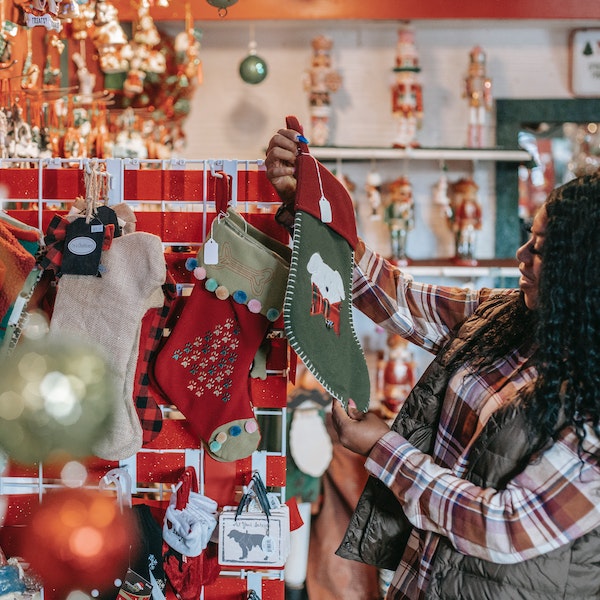 If you're stumbling as to what to get for stocking stuffers for the ladies in your life, look no further than this comprehensive stocking stuffer guide! Browse stocking stuffers for every type of woman at any age, with stocking-sized gifts at various price points and take the guess work out of your Christmas shopping this year!
*this post contains affiliate links*
 1. Lip Balms, Glosses & Oils
Everyone loves soft, healthy lips, so why not add a lip balm, gloss or lip oil to her stocking? For lip glosses, I recommend the Fenty Beauty gloss in "Fenty Glow." It looks and feels amazing on the lips and this shade is universal, meaning it will work on every skin type.
For lip balms, Burt's Bees beeswax lip balms are the way to go, while the Laneige Lip Sleeping Mask is will give her soft lips day or night. For lip oils, the e.l.f. Cosmetics lip oils are amazingly glossy, non-sticky and super affordable.
2. Device Charging Cables
Everyone has been in need of a charge cable at one time or another. Give her a set of cables to keep in her purse, at the office or in the car for a quick charge on the go. 
BUY IT: iPhone Charging Cables                    Samsung Galaxy Charging Cables
3. Sheet Masks & Under Eye Patches
Sheet masks and under eye patches are a great way to hydrate dry skin and allow enjoy 15-20 minutes of TLC that will leave her looking radiant. The PIXI Detoxif-eye patches are amazing for depuffing, hydrating and brightening the under eye area and I personally love Medi-Heal Sheet masks for their quality ingredients and overall fit/ingredient formula.
4. Hand Sanitizer
Keep her hands germ free while she's on the go with scented or unscented hand sanitizers that will fit in her purse.
5. Press On Nails Or Nail Polish
For the ever-manicured woman, grab a couple of complexion-complementing Essie nail polishes or some press-on nails to keep her nails looking fabulous. I have a colleague that swears by Kiss Press-On nails and I can vouch they look great and totally natural.
6. Pain Relief Patches
I tried these Salon-Pas pain relief patches and they are a dream for sore, achy muscles by providing targeted pain relief where you need it for up to 8 hours. Add a box of these to her stocking and she'll be thanking you later.
7. Safety Alarm
Any woman who has walked alone at night will value this Birdie safety alarm. When activated, it sounds a loud siren and strobing light to get people's attention. Even better, 5% of She's Birdie profits are donated to partner organizations that passionately support women's safety, shelter and health.
8. Slipper Socks
These slipper socks not only fit into a stocking but will fit into her purse so she can bring them anywhere she needs some impromptu comfy slippers. They have non-slip soles to keep you safely on your feet too. 
9. Hand & Cuticle Cream
For the constant skin picker or dry-handed friend, add some tubes of hand cream to her stocking to keep her digits moisturized. My favourite hand creams are from The Body Shop – not only are they protective and nourishing, their fragrances are amazing and the tubes easily fit into a handbag.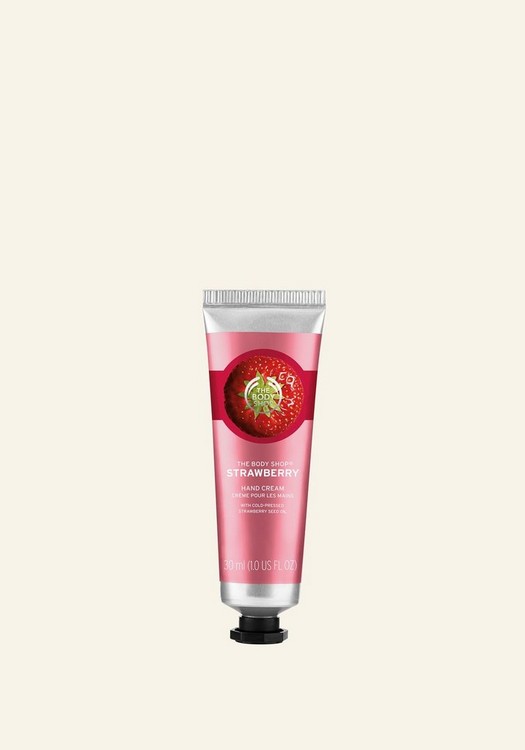 10. Skin Care Serums
There are a number of fabulous high and low end skin care serums  that come in the cutest bottles or tubes – perfect for adding into a skin care lovers stocking this year! I tried this fabulous Power of Four Skin Care Serum set from CurrentBody Skin that you can open and add into one or more stockings.
Some other fabulous serums to consider are Neutrogena's Rapid Wrinkle Repair Serum (anti-aging benefits),  L'Oreal's Revitalift (for hydration), Paula's Choice C15 Super Booster (for brightening and reversing sun damage – reviewed here) or The Ordinary's Niacinamide + Zinc Serum (pore minimizing and oil control – reviewed here).
11. Tide Stain Removers
Anyone who is a bit of a messy eater like myself will absolutely love these Tide To Go Instant Stain Removers. They're a must have in your handbag and they work on the spot (literally!).
12. Hair Clips & Cords
For the lady who always has her hair pulled back, some stylish hair accessories like claw clips, scrunchies or hair cords are the perfect gift and will prevent her locks from getting damaged.
Find out how to reduce damage to your hair in 8 easy steps.
 13. Hair & Body Mist
Body mists or hair fragrances come in a ton of different scents and are a perfect stocking stuffer for the girl who wants to smell like vanilla or roses wherever she goes.
14. Wool Scarf
Keep her warm and looking stylish with a wool scarf to complement her winter coat. If you're looking for a high end option, a classic Burberry plaid scarf is always a winner, while this pink and gray wool scarf is a stylish lower end option.
15. Essential Oils & Pocket Diffuser
Essential oils can have great health benefits and calming effects. Grab her an essential oil set and a pocket diffuser to keep her relaxed wherever she may be.
16. Cuticle Oil
For that girl who's always struggling to keep her cuticles soft and smooth (like me) add a nourishing and strengthening cuticle oil to her stocking like this organic option from Pura d'Or.
17. Compression Socks
If the girl in your life spends a lot of time on her feet, some compression socks are in order to boost circulation and reduce pain from standing all day long.
Want to treat yourself? I share a ton of self care products to keep you looking and feeling refreshed this year!
 18. Beautiful Coasters
For the décor lover in your life, some gorgeous marble, resin, agate or wood coasters are the best mini-gift for this decorator's stocking. You can find some personalized coaster options on Etsy if you're looking to add a more customized touch (click a picture below to shop that item).
19. Exfoliating Foot Mask
Most of us tend to overlook our feet, leaving them dry and cracked. I tried an exfoliating foot mask a while back (reviewed here) and it gave me baby soft feet after one treatment! Add a couple foot peel masks to her stocking (as long as she's not pregnant or suffering from diabetes) and be prepared for some happy feet.
20. Compact Mirror
For the woman that has almost everything in her purse, a gorgeous makeup compact to help her touch up her look will be much appreciated. This option from Macy's even has a light!
21. LED Lip Perfector
For younger, plumper lips, this CurrentBody Skin LED Lip Perfector will make someone's Christmas Day extra special. It uses red light therapy to stimulate collagen production for smoother, fuller lips.
22. Samsung Galaxy Smart Tag Tag
For the girl who loses everything, the Samsung Galaxy Smart Tag will track her luggage, her dog, her keys or her bag location using GPS. If you're not on Android, the GEGO GPS Tracker operates on iOS as well as Android. 
23. Loose Leaf Tea
Tea lovers can never have too much tea! Treat her to some new loose leaf tea flavours and include some loose leaf infusers in case she's new to loose tea.
24. Dry Body Oil
To keep those dry patches at bay, consider adding some dry body oil into your friend's stocking this year. It will protect and nourish skin while adding a non-greasy glow.
25. Shower Steamers
Shower steamers are a fun way to enjoy some aromatherapy in your shower. They're made with varying scents and fragrances that are amplified with the warmth of your shower to change the mood of the showering experience.
26. Jade Roller/Gua Sha
For the skin care fanatic, a beautiful jade roller and Gua Sha set would be the perfect stocking stuffer option to depuff and smooth her face for the new year. I also personally love this gold vibrating facial massager set to de-stress and de-puff instantly.
27. Business Card Holder
For the boss lady in your life, a stunning leather cardholder like this one from Kate Spade would make the perfect addition to her portfolio.
28.Leather Gloves
Keep her digits warm with some leather gloves that will never go out of style.
29. Temperature Controlled Mug
If she never gets a chance to drink her coffee or tea hot, this handy temperature controlled mug will become her most favourite gift ever.
30. Wrinkles Schminkles Patches
I tried these innovative wrinkle-busting silicone patches from Wrinkles Schminkles and they are amazing! Reviewed here, these patches can be worn overnight and have different patches to smooth out wrinkles on your neck, chest, under eyes, around the mouth and the forehead for younger looking skin.
31. Heatless Hair Curlers
If heat styling isn't on your girl's list, try these heatless hair curler set that can be worn overnight for damage-free curls in the morning.
32. Passport Holder
The constant traveler will love a stylish passport holder to keep her document in tip top shape.
33. Phone Case
If you know the make and model of your lady's mobile, a chic phone case that matches her style would be the perfect stocking stuffer.
34. Silk Pillowcase
Let her sleep in luxury and enjoy less friction on her hair and face with a silk pillowcase.
35. Handbag Hook
Her designer bag will never again be left on the floor with a handy purse hook.
36. Two In One Kitchen Towel and Oven Mitt
For the constant cook in the family, consider throwing in these Rachel Ray 2 in 1 kitchen towel and oven mitts. Use this to clean up spills, dry dishes or to safely take hot pans out of the oven by inserting your hands into the protective corners.
37. Scalp Massager
This scalp massager not only feels amazing, but it helps to exfoliate dead skin cells on the scalp while promoting circulation to the scalp for healthier hair. It's one of my fave hair tools!
38. Beauty Sampler Sets
Beauty stores like Sephora or Ulta often have beauty sampler sets that let you test out amazing products in sampler/travel sizes at a lower price. These sets are perfect to toss into a stocking for the beauty lover in your life.
39. Wireless Ear Buds
Let her enjoy her favourite music or shows without being chained to a cord with these wireless ear buds for only $16! For a higher end option, grab these Apple Air Pods instead. 
40. Blue Light Glasses
Protect her eyes from tiring blue light with a chic pair of blue light blocking glasses. They come in so many colour options!
41. Bluetooth Speaker
She can crank her tunes anywhere with this portable Bluetooth speaker. If she loves to sing in the shower, get her this waterproof version, which is a personal favourite gadget of mine!
42. Jewelry
"I hate jewelry" said no woman ever. Toss in some gorgeous bangles, hoop earrings or a dramatic cocktail ring for the fashionista in your circle. Baublebar is a great place to start your jewelry shopping, FYI.
43. Sleep Mask
Did you know that even the smallest bit of light when you are trying to sleep can disturb your slumber? Block out any sleep-disturbing light with a silk sleep mask.
44. Pulsating Facial Cleanser
I love my FOREO Luna mini 3 pulsating facial cleanser (full review here); it removes impurities from my skin while giving me a wonderful massage in the process. I also find that I have less blackheads and smaller looking pores when I use this device. For a more affordable option, consider this no-name cleanser brush from Amazon.
45. Dry Brush
Let her boost circulation, exfoliate and detoxify her body with a lovely dry brush in her stocking this year.
46. Makeup Remover Puff & Cleansing Balm
Take care of her skin and ensure she removes all her makeup in full with a makeup remover puff and makeup removing cleansing balm. I tried Junoco's Clean 10 Cleansing Balm (reviewed here) and it cuts through makeup like a knife!
47. Candles
Candles are a great way to set the mood in a room or provide a lovely fragrance in a home. Add a couple Voluspa scented candles in her stocking to embellish her self care time or home decor.
48. Portable Fan
I love my portable fan in the summer and I think the girl in your life would too. This one has three speeds and can fit into a handbag or sit on a desk. 
Find out how to update your home for the Christmas holidays!
 49. Phone Holder/Stand
This phone stand can help her binge watch her fave shows on her mobile hands-free.
50. Facial Mist
She can hydrate her skin anywhere with a hydrating facial mist for her handbag.
51. Charge Pad
This wireless charging pad makes it easy to charge her phone without worrying about plugging in the right cord.
52. Mini Hair Straightener
Keep her locks in check on the go with this fabulous mini hair straightener.
52. Personalized Gifts
Give her a customized gift with a personalized ornament to hang on her tree. I grabbed these two personalized glitter balls from The Lettering Studio for my daughters to mark their first Christmases. This shop also has other personalized items to browse through and all the writing is done by hand.
What stocking stuffers have you chosen for the ladies in your life this year?