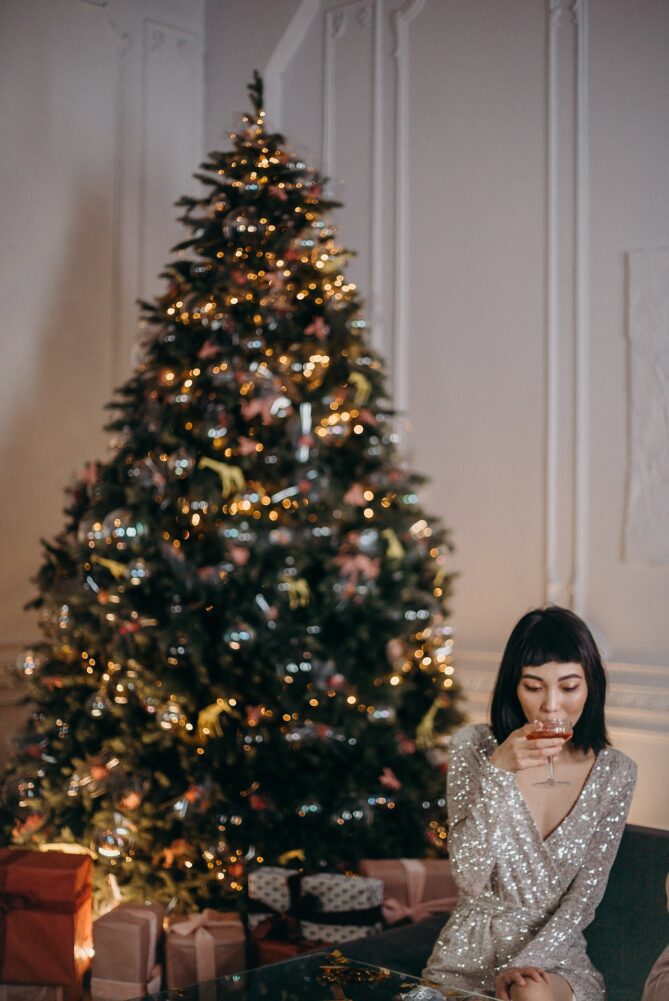 Looking for festive winter outfit ideas for the holidays? Browse these stylish Christmas and holiday party outfit ideas, from the most casual to the uber elegant!
I love Christmas! It's my most favourite time of year!
I especially love the winter colour palette; from neutral silvers, whites and golds, to the bold blues, greens, reds and pinks.
There are so many fun colours, patterns and textures to choose from during the winter season to make any celebration you attend a most stylish one. 
*this post contains affiliate links. All photo sources have been included at the bottom of the photo*
Metallics
I feel like Christmas is the time of year when you can bust out metallics and not feel over the top.
Glam things up with a metallic skirt or reflective blouse this holiday season and shine anywhere you go. Don't forget your leather clutch!
Rompers and Jumpsuits
The most comfortable holiday outfit idea by far, a one piece romper or jumpsuit is a fun and elegant look that can be done in bold jewel tones or a neutral palette. Sparkle even more with a sequined or metallic option!
The Pant Suit
A pant suit in jewel tones for the holidays is perfect for a professional event or office holiday party. Jazz up this outfit with some statement earrings or a festive brooch.
Plaid or Stripes
Plaids and stripes are stunning patterns that really get amped up in the winter. Green, red, black and white plaids are perfect for that office holiday party and can be super casual or dressed up for a more formal event as needed. 
Find out how to update your wardrobe for fall with these time-tested fall fashion staples.
Casual Comfy
Not every holiday party needs to be a black tie event. For the comfy, casual setting, go with a loose top over jeans or leggings or a velvet tracksuit for an effortless look.
An ugly Christmas sweater is also a great addition to the casual/comfy look – and don't forget a pair of cute sneakers, booties or riding boots to complete the look.
Get your nails ready for winter with this collection of stunning Christmas nail designs!
Tucked Top & Skirt
Adding a short ribbed knit sweater or wrap blouse on top of a skirt allows for so many options! Consider a knit top on a long tulle skirt or a fitted bodysuit on a short, plaid skirt, to name a few.
Leather 
Leather is a chic fall/winter wardrobe staple that can go with anything. Add a leather pencil skirt, pleated skirt or fitted pants under a knit sweater or bodysuit for an elegant, sophisticated look.
If real leather isn't your cup of tea, there are still a ton of faux leather options.
Velvet
Velvet is such a gorgeous fabric for the holiday season and the slight sheen it provides makes it perfect for rich reds, greens or golds.
Whether it's a velvet blouse, velvet blazer or head-to-velvet as a dress or jumpsuit, velvet will definitely work for any holiday event.
Add some strappy heels and a satin clutch to complete the look. 
Faux Fur
What better time to wear fur than a winter holiday party? Try a fur stole, wrap or fur-trimmed outfit to look glam and stay warm.
Tulle
Tulle is such a whimsical fabric and is perfect for a romantic holiday dress, blouse or a full volume skirt. 
Silk & Satin
Silks and satins offer a gorgeous shimmer to your look and is perfect for that Christmas get together where you want to shine.
Add a silk skirt under a knit top or a satin blouse on top of slacks for a quick outfit for the holidays.
Sweater Dress
Sweater dresses are my go-to in the winter because they're warm, comfy and can be paired with heels, ankle boots, riding boots or thigh high boots. They're also very figure flattering and can be worn body-hugging or loose as you prefer.
Add some funky tights or a stylish belt or brooch to complete the look.
Holiday-Themed  Sweater
Knits are great in the winter and knits with winter/holiday themes are perfect for a festive gettogether.
If you want to have more fun, grab an "ugly" Christmas sweater and spread the over the top cheer!
Sequins & Crystals
Is there any better time to wear sequins or crystals than the holidays? Make your Christmas party shine with a gorgeous pop of shimmer with a sequined or crystal-bedazzled dress, skirt or blouse. 
Lace
Lace is a super romantic texture and looks stunning in any season, IMO. A lace blouse or dress would be perfect for that office Christmas party or a holiday date night.
Blazer Dress
One of the looks I've been dying to try is a blazer dress – where the office meets a fun night out!
Grabbing a blazer dress in satin or velvet would be stunning for your next festive event. Bonus: they come with pockets to hold all your candy canes and sweets!
Little Black Dress
A classic little black dress works for any occasion and is a must-have wardrobe item. Dress it up or down depending on the style and detailing for that special holiday party. 
Houndstooth & Gingham
Houndstooth is perfect for winter outfits and often comes in tweed or wool options.
In a matching top and bottom outfit for the office Christmas party or as separates, houndstooth is a winter staple. Tip: Houndstooth looks amazing paired with a bold red lip!
Feathers
I love feathers worked into an outfit for some fun, and a holiday party is the perfect outlet to let the feathers out! Find a sweater with feather trimmed cuffs or a feather trimmed dress for a bit of whimsical festive fun.
If feathers on your outfit are too much for you, try a feather clutch or hair accessory instead.
Holiday Accessories
Don't forget to complete your outfit with the perfect holiday accessories. A feathered clutch, a pearl brooch, a crystal hair clip, knee-high boots – there are so many ways to dress up your outfit for maximum effect!
What will your holiday party outfit be this year?