Beauty+Lifestyle
I Tried The CurrentBody Skin LED Light Therapy Mask For Firmer Skin-Pro-Teachs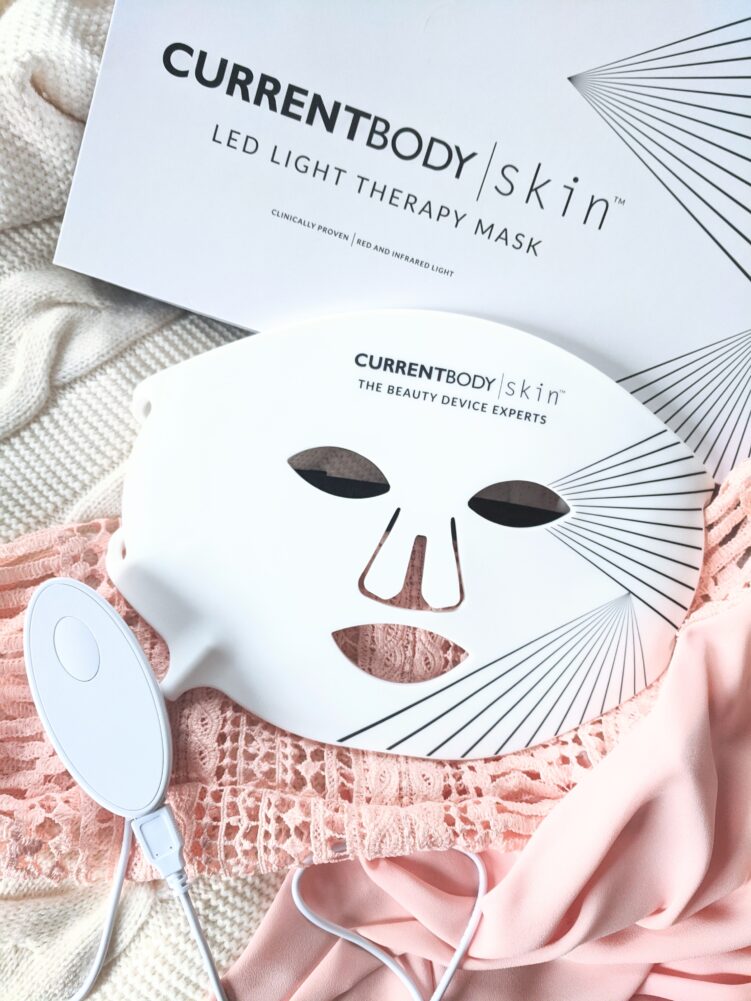 Does red light therapy work?

I review the CurrentBody Skin LED Light Therapy Mask in this post and share why this non-invasive treatment device might help you get clearer, smoother and firmer skin from the comfort of your home.
I've been deep into anti-aging skin care for the past 8 years now and I'm always looking for the latest new product or gadget to give me younger looking skin. My skin care basket is chock full of retinols, anti oxidants, peptides, niacinamide serums, exfoliants, peels, sleep masks, facial massagers and pretty much any other skin care item that promises to improve the look of my skin.
Given my anti-aging obsession, I'm not a newcomer to the skin-improving benefits of red light therapy and have use a red light therapy device in the past (they work!). Red light therapy is nothing new in the anti-aging skin care market; it has been shown to boost collagen production for firmer, more radiant skin as well as treat acne, hyperpigmentation, scarring and blemishes.
I've personally used a smaller, hand-held red light therapy device for my face in the past (the LightStim For Wrinkles); it gave me great results, but because I had to hold it up to my face and move it around every three minutes until I treated my entire face,I got lazy and stopped using it.
I really wanted to invest in a good red light therapy mask that would treat my entire face at once without me having to hold anything or move anything around during treatment, so I did not hesitate to accept the CurrentBody Skin LED Light Therapy Mask when the brand offered to provide it for review.
Find out how this skin care device works, what it can do for your skin, how I use it and my results in this post.
*this post includes affiliate links and all featured products were provided by CurrentBody*
What Is Red Light Therapy & How Does It Benefit The Skin?
Red light therapy is the treatment of human tissue with specific red and near infrared wavelengths of light at certain concentrations to induce therapeutic benefits.  
Red light therapy is safe to use and has no adverse side effects. The wavelengths used in red light therapy are safe and do not use any harmful UV wavelengths that can lead to skin cancer.
Red light therapy for the skin can:
-improve blood flow, which improves skin healing and reduces inflammation
-reduce the appearance of wrinkles 
-heal acne and wounds
-reduce the appearance of scars
-firm loose skin
-reduce the appearance of redness by reducing the size of broken blood vessels
The closer your skin is to the light, the shorter the treatment session needs to be (closer = more light absorption by the skin). Red light therapy also has a number of health benefits, including:
-Managing arthritis pain 
-Reducing joint stiffness
-Managing peripheral neuropathic pain
-Promoting hair growth 
-Improving eyesight 
-Cognitive and mental health 
-Managing Parkinson's symptoms
-Arthritis-related joint pain and stiffness 
-Bone tissue repair 
What Does The CurrentBody Skin LED (light emitting diode) Light Therapy Mask Do For Skin?
CurrentBody Skin boasts a number of skin care benefits with regular use of their LED Light Therapy Mask. It uses two wavelengths, red and near-infrared, which have been touted to improve skin texture, firmness, tightness and skin tone while reducing the appearance of wrinkles in four weeks.
LED stands for light emitting diode and refers to the little light bulbs you see in the back of the mask. The CurrentBody Skin LED light therapy device combines Red (633nm) and Near Infrared Light (830nm) wavelengths, which are the wavelengths you want for skin-improving benefits. 
The red light repairs skin by regenerating the production of new cells, which leads to the stimulation of the production of new collagen (the stuff under our skin that keeps it looking full and plump). 
The infrared light works by stimulating the 'healing' cells in the skin, which stimulates new, fresh skin to form. Penetrating deep into the skin's surface, infrared light boosts circulation, improves blood flow and increases oxygen to the skin's cells. If you're looking to learn more about redi light therapy, Doctor Anne has a great article detailing how red light therapy works on her blog.
As with any at-home device, keep in mind that while this device may improve or enhance the look of your skin, it will never provide the same effect as more invasive treatments such as Botox, fillers or a face lift.
The CurrentBody Mask is safe to use and pain free. The mask comes with a 60-day money back guarantee and a two-year warranty.
BUY IT: CURRENTBODY
Shopping Tip: CurrentBody is a participating Rakuten vendor. Sign up for a free Rakuten account now to get a percentage cash back on your online purchases with participating vendors like CurrentBody! Learn more about how Rakuten works here.
How Do You Use This LED Mask?
The CurrentBody Skin LED Light Therapy Mask is safe for all skin types and can be used up to five times per week for 10 minutes per treatment session. The mask is made of flexible silicone with red-coloured LED lights within the mask.
The mask bends to cover the entire face and stays close to the skin to allow the red light to deeply penetrate every contour. There are three indicator lights on the power pack that show you how much battery life is left.
There is a strap at the back of the mask that fits along the back of your head that can be tightened as needed; this strap holds the mask firmly in place and lets you go about your daily duties while getting in a great light therapy treatment. I personally like using my mask at night before bed while lying down and listening to my fave playlist on Spotify for some pre-sleep TLC.
This mask is to be used on clean, exfoliated skin and can be used in your morning or night time skin care routine. Once your session is complete, you can continue with your regular skin care routine.
What Does It Come With?
The CurrentBody Skin LED Light Therapy Mask comes with:
-one LED flexible face mask
-adjustable mask strap
-charging cord
-power cord with interchangeable outlet heads (so you can plug it in in any country)
-power pack
-user manual 
-storage bag
BUY IT: CURRENTBODY
Other LED Light Therapy Devices Offered By CurrentBody Skin
–CurrentBody Skin LED Lip Perfector (I'm testing this now and reviewing it soon on the blog!)
-CurrentBody Skin LED Precision (handheld device)
-CurrentBody Skin LED Neck and Dec Perfector
-CurrentBody Skin LED Hand Perfector
-CurrentBody Skin LED Eye Perfector
The CurrentBody site also offers LED devices from a number of other brands such as LightStim and Qasar.
Want smooth, hair free arms, legs and face? Find out how the SmoothSkin Pure Fit IPL Hair Remover can remove excess hair for good!
My Experience With The CurrentBody Skin LED Light Therapy Mask
How I Use It: As mentioned above, I enjoy using this mask before bed while listening to some music. I cleanse and exfoliate my face before turning on the mask and do a 10 minute session before going to bed. The mask automatically turns off after 10 minutes, so you don't have to worry about setting any timers.
I love that this mask is flexible on my face; it's comfortable to wear and targets my entire face without feeling too awkward. There is absolutely no pain that I experience when I wear the mask, just a barely-there feeling of warmth from the lights. 
My Results: As I mentioned before, I'm not new to red light therapy and I do find that it improves my skin when I take the time to use it regularly. This mask helped to slightly firm my skin, which in turn helps reduce the look of the pores on my cheeks. It also softened the look of the fine line running underneath my eyes and helped to smooth the lines on my forehead. 
I have two deeper lines running across my forehead which are still as deep as they were before – again, we need to be reasonable about our expectations! This device won't make wrinkles disappear, but can help to soften them with regular use.
My skin feels smoother and my makeup applies and blends  easier, which is always a good sign of something working for me! My kids also laugh and tell me that I look like Iron Man when I wear it, which always makes me smile.
Overall, I enjoy using this mask – it's super easy! – and will continue to use it as part of my night time regime. My only complaint would be that it doesn't come with anything to cover your eyes. The bulbs are quite bright, so I would have liked something to cover up my peepers while I use it, especially since I use it before bed.
BUY IT: CURRENTBODY
Want to get plump, glowing skin? Browse my favourite skin care tools to hydrate, plump and boost collagen production in your complexion.
 CurrentBody Skin The Power Of Four Skin Care Set
CurrentBody also sent me this gorgeous vegan skin care serum set to boost my results with their LED Light Therapy Mask. Encased in stunning glass bottles, each with a pipette to dispense the product, this Power of Four Skin Care set includes:
-CurrentBody Skin Green Tea Serum – apply some for an anti-oxidant kick.
-CurrentBody Skin Daily Restoring Serum – contains caffeine for a rejuvenating, de-puffing boost!
-CurrentBody Skin Hyaluronic Acid Serum – acts as a moisture magnet within the skin.
-CurrentBody Skin Glow Serum – to brighten and glow.
BUY THE SET: CURRENTBODY 
Will you be adding a red light therapy mask into your skin care routine?