Beauty+Lifestyle
These Personalized Christmas Ornaments Make Great Gift Ideas Pro Teachs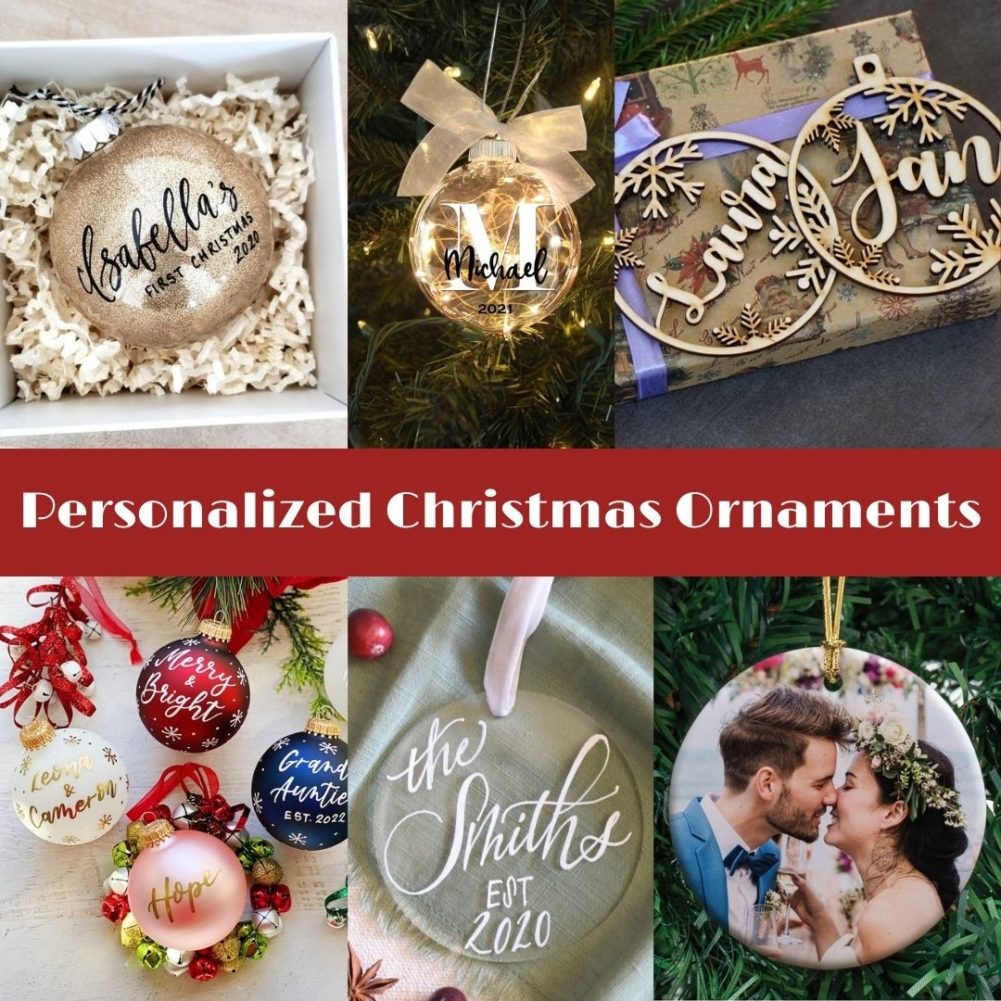 Gift giving can be so hard, especially if most of your family and friends are tough to shop for. But I've found the most thoughtful Christmas gift idea that I assure you no one will re-gift, return or toss away.
Personalized ornaments are a great gift idea for anyone; they're great for newlyweds, baby's first Christmas, new grandparents or great-grandparents, expecting couples, your pets or just as a namesake.
They also come in a ton of material and texture options – glass, acrylic (which I love, these don't break if dropped!), wood or resin. I myself have had personalized ornaments made for my daughters, my parents and my siblings and they've always been a hit.
Here are some beautiful personalized ornament ideas for your next gift-giving event!
*this post contains affiliate links*
1. Personalized Glitter Ornaments From The Lettering Studio
These personalized ornaments from The Lettering Studio (Toronto-based) are handwritten by the shop owner and come in acrylic or glass options (I chose the acrylic, since they are shatterproof!). Another great detail? The glitter is on the inside of the ornament, so it won't make a huge mess all over the floor whenever it's touched (my oldest daughter has been covered in glitter since the tree went up).
Each ball measures 4 inches wide, with black and white butcher's twine attached for hanging. The Lettering Studio also has slightly smaller options for a lower price.
Pictured below are the ornaments I ordered a couple years ago for my daughters Adora and Iva. I also ordered one for my parents and a glass version for my grandmother – they love adding it to their tree each year to mark the year they became grandparents and a great-grandparent. You can browse the other personalized ornament options the shop has to offer.
VISIT THE LETTERING STUDIO
2. Custom Christmas Ornaments From GS-JJ.com
GS-JJ.com offers custom ornaments to meet your various requirements for Christmas ornaments. They are available in wood, glass, metal, and many other materials. You can customize them with a special message such as a photo or text, which will have a unique meaning.
Whether for decoration or gift, they are a great choice for you. Material, process, packaging, etc. can be selected independently in the free quotation system to achieve 100% customization. Don't miss these high-quality ornaments with no minimum order and free shipping.
3. Birch Wood Ornaments from Engrave Celebration
This Etsy shop creates laser cut personalized ornaments from 1/8 inch natural birch wood for anyone in your family. They have two font styles and two ornament styles to choose from and make a great eco-friendly, sustainable ornament option.
And because the ornaments are cut from natural wood, you will see beautiful variations in the colour and look of the wood grain that will make your ornaments all unique. If you prefer to select a colour to coat the ornament in, this shop allows you to select from a number of colour options.
Engrave Celebration also provides wood name tags to adorn your holiday table setting or attached to a gift instead of a nametag.
VISIT THE ENGRAVE CELEBRATION
Find out how to update your home for the Christmas holidays!
 4. Personalized Ceramic Photo Ornaments from Pacific Customs
Pacific Customs offers personalized photo ornaments so your friends and family can remember a special time in their life that was captured in a great photo.
Celebrate an engagement, wedding day, a family event or the birth of a child, or create a keepsake to remember someone you loved who has passed on. These personalized ornaments are about 3 inches wide and are made from ceramic (so breakable, be careful!).
VISIT PACIFIC CUSTOMS
5. Personalized White Glass Ornaments From Oh Livvy Creations
There's something timeless and beautiful about a delicate glass ornament and Oh Livvy Creations can create a personalized one for your loved ones that will look stunning on any tree.
These ornaments measure a 2.6 inch white glass ball with black and gold wording on a white background with a checkered, polka dot or snowflake black and white bow or red and black bow. They also have a ceramic glazed ornament in the shop for a different texture.
VISIT OH LIVVY CREATIONS
6. Personalized Acrylic Photo Ornaments from Secret Creation
Secret Creation offers an acrylic, double-sided, snow globe shaped photo ornament that can be personalized to mark a special occasion.
You have the option of selecting a custom ribbon colour and can choose to include a gift box as well for the receiver to store the ornament safely. This shop also offers personalized ornaments (without a photo) on gold mirror acrylic or ceramic.
VISIT SECRET CREATION
7. Personalized Colourful Glass Ornaments from SJ Letter Co
SJ Letter Co offers a range of coloured glass ornaments with handwritten personalization. This shop allows you to select the ornament colour, texture (frosted or glossy), the ink colour and whether you want the writing on only the front or double-sided – so many options to really personalize this gift idea.
VISIT SJ LETTER CO.
Make Christmas shopping easy with this guide to stocking stuffer ideas for her.
 8. Personalized Unicorn Ornament from Sugar Lily Collection
Sugar Lily Collection is the shop to visit if you have a unicorn lover in the house! This super cute ornament allows you to add a name to the back of the ornament so each unicorn lover has their own ornament (because who wants to share?).
This shop allows you to select the font used and flower colour for the ornament, which measures 3 inches wide and is acrylic.
VISIT SUGAR LILY COLLECTION
Want to treat yourself? I share a ton of self care products to keep you looking and feeling refreshed this year! They also make great gift ideas for someone seeking some TLC.
 9. Personalized Lighted Christmas Ornament by Firefly Wishes Design
Know someone who loves a little flash to their ornaments? These lighted ornaments will bring some glow to their Christmas tree every year. Firefly Wishes Design provides shatterproof acrylic ornaments filled with LED firefly starry string lights in a 4 inch ball.
These lights have multiple lighting modes (steady, fast strobe, slow strobe, etc.) with a 6h on/18hr off timer and comes with easy to replace batteries.
VISIT FIREFLY WISHES DESIGN
10. Personalized Pewter Ornaments from Indiana Pewter 
These stunning unleaded pewter engraved ornaments are made by Indiana Pewter in a 2.5 inch snowflake design. This gift provides a classic look that's timeless and can be passed down in the family to adorn every generation of family Christmas trees.
VISIT INDIANA PEWTER
11. Personalized Acrylic Disc Ornaments by Michelle Renee Co
These modern acrylic discs are great for those millennials who love simplicity in form. These shatterproof discs are 3.5 inches wide and have colour options for you to choose the ribbon colour.
Your custom hand-lettered wording can be personalized for anyone in your life that needs a new ornament for their tree (because you can never have enough, right?). This shop also has ornaments in a house or square shape too.
VISIT MICHELLE RENEE CO
Regardless of where you order your ornaments from, make sure you order them early enough so that they arrive for Christmas! Most shops will let you know the ordering cut off for timely arrival.
You can check out all these personalized ornaments for Christmas on Etsy here .
Many of the shops also offer other products with personalization options if ornaments aren't your gift-giving vibe. And don't forget to follow my Gift Ideas board on Pinterest for more!